All Eyes on Smart Lighting at Light+Building 2014
Smart lighting has become the trump card  for manufactures who want to give themselves an edge in the market. Large manufacturers including Philips, Osram, Samsung, and LG all showcased their newest smart lighting products at Light+Building 2014. The idea that anything is possible through smart lighting was evident at this year's exhibition in Frankfurt.
Philips Hue was still the main theme of the Dutch lighting manufacturer's Philips booth  at Light+Building, said LEDinside Research Director Roger Chu. Hue is currently the only fully color tunable A19 LED bulb system. Not to be out done, Osram, Samsung, and LG also showcased products with similar frameworks that use a gateway platform to connect mobile phones Wifi connections to wireless Access Point (AP) in households. These smart lighting systems are also able to transmit Zigbee control signals from the gateway to  the smart bulbs.
Although, Hue was the major theme at Philips booth, the company also showcased connected LEDlighting systems for household, office, commercial, and urban applications. Philips plans to move one step closer towards the digital lighting era through the use of LED lighting and smart lighting control technology.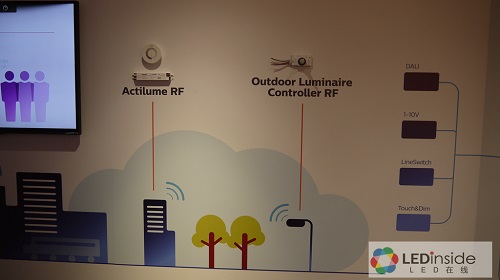 Philips' connected LED lighting systems for household, office, commercial, and urban applications.
Osram showcased their in-house smart lighting system Lightify. The system relies on using handheld devices with WiFi Internet connection as an interface, and uses a Gateway paired with Zigbee Light Link (ZLL) wireless transmission as a communication bridge between the luminaire and handheld device. Currently, one gateway can control around 50 light fixtures.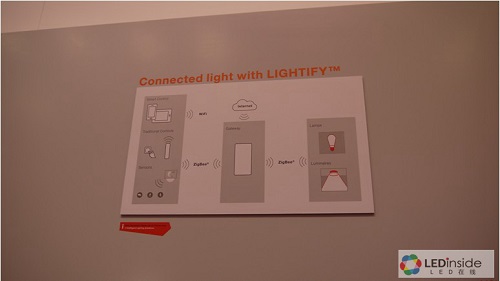 Osram smart light system Lightify uses Zigbee Light Link (ZLL) wireless transmission as a communication bridge between the luminaire and handheld device.
Samsung also exhibited smart bulb series and Smart Home platform. Samsung's first ever smart bulb has built-in Bluetooth which allows users to directly control and adjust the bulbs with mobile phones Bluetooth connections. The Smart Home platform enables users to manage and control appliances including TVs, lights, and even vacuum cleaner through a single app.
In addition, Samsung showcased three smart LED bulbs. These bulbs have an exterior similar to traditional incandescent bulbs and use an E27 screw socket. The bulbs can be used in most types of light fixtures. Through built-in Bluetooth, the LED bulbs can overcome gateway limitations allowing users to adjust lighting quickly and conveniently, creating different lighting environments.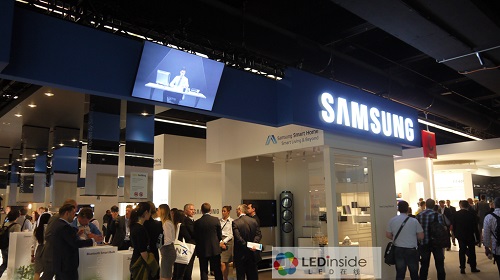 Samsung showcased their LED smart bulbs and  Smart Home platform during the trade fair.
LG Home Chat system can control household appliances and lighting systems through social media platforms including Line and LG Home Chat. Users can input commands such as "Turn off light, Good night" to turn off lights within the house.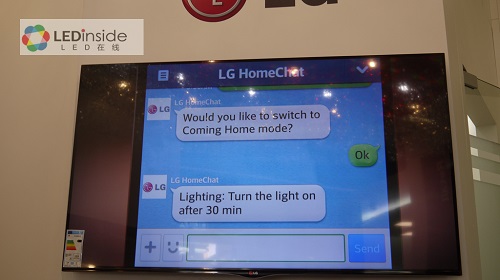 LG Home Chat system enables users to control their lighting system through messaging platforms such as LINE.
LG also exhibited their curved OLED smart lamp. This is the first time a curved OLED panel has been used as a light source. Similarly to the company's LED smart lamp series, their new OLED smart lamp is also able to be controlled through Bluetooth by iOS and Andriod users. Users can set various modes for different situations and environments, such as TV mode or reading mode. At the same time, users can also control the timing and brightness of the lamp. For example, the lamp can be set to gradually brighten in sequence to an alarm clock.
Zigbee is a networking protocol that uses Mesh framework to undertake point-to-point data transmission. ZLL is a commonly used energy-saving wireless control protocol for lighting. Mobile phones and panel systems without Zigbee chip support must use a gateway as a bridge to use Zigbee controls. After U.S. company Nest, which uses embedded Linux in their Learning Thermostat system, was recently acquired by Google for US $3.2 billion, mobile phones running on Andriod systems with built-in Zigbee chips have also become an area with a lot of growth potential.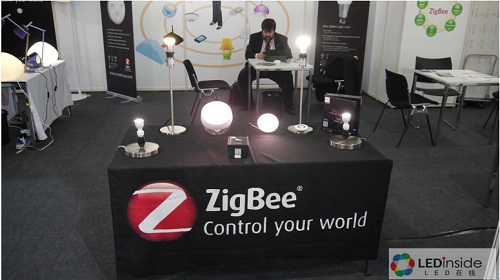 Zigbee booth at Light+Building 2014.
Hall 11 housed control system manufacturers, such as Crestron. Various types of control switches were showcased in this area. Wireless control systems were developed under existing wired control systems framework using an in-house closed loop system. While the system meets the goal of creating a comprehensive smart home, the price is still out of range for most consumers.
(Author: Amber Liu, Chief Editor, LEDinside China// Translator: Leah Allen, Editor, LEDinside)