Light+Building: European and Asian Regions have Different Office Lighting Tastes
Creating comfort through light in an office environment is an important design aspect for lighting manufacturers. Designing anti-glare and flicker free lighting is an area all manufactures can agree on. Exterior appearance, however, is where it differs.
Different regions require different design aesthetics for office lighting fixtures. This is most evident when comparing European and Asian office lighting preferences. European lighting manufactures place importance on the exterior appearance of lighting fixture design while Asian manufacturers prioritize energy-saving benefits and improving work efficiency.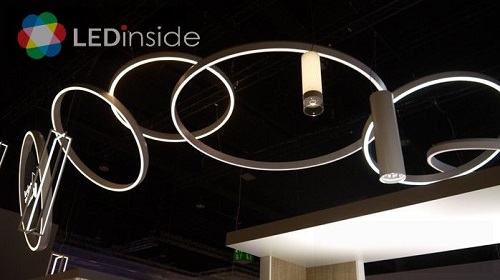 hatec - Lichttechnik's Leuchtenring luminaire design.
Observing the many office lighting fixtures manufacturers exhibited at this year's Light+Building, there was a stark contrast between the products displayed by European manufacturers and  Asian manufacturers. Asian manufacturers showcased panel lighting with white panel seals on top of the luminaire to direct light downwards, creating a much more uniform indoor lighting distribution. European manufacturers on the other hand opted for office lighting that was thin and transparent in appearance. The majority of manufacturers used transparent light guide plates in their panel luminaires, which created a thin exterior that projected light upwards. The UK for example has required luminous flux for office luminaires to reach above 30 percent. Although, not every region has similar requirements, many manufactures however still emphasize upward light projection to create homogeneous light distribution for the entire office space.
German lighting manufacturer TRILUX's Lateralo Plus LED supplies maximum visual comfort and almost shadow-free, planar light.
European lighting manufacturer Zumtobel showcased panel lights with light guide plate design and modularized office application LED luminaires. Modularization increases the lifespan of luminaires.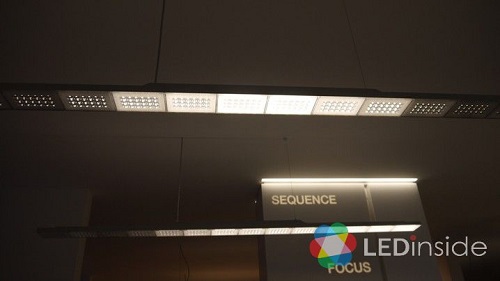 Zumtobel's SEQUENCE pendant and surface-mounted LED luminaire
Floor lamps are commonplace in office lighting in Europe, due to their simple design and ability to project light downward.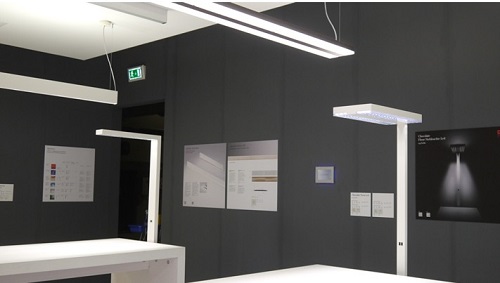 Italian manufacturer Artemide's surface mounted luminaires and floor lamps.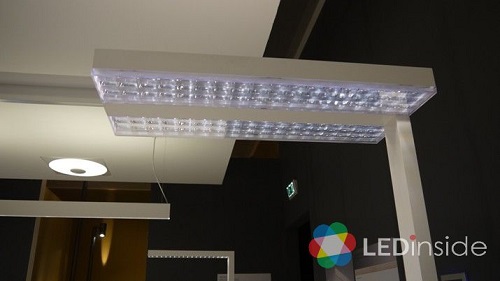 Artemide's Chocolate Floor LED