Chinese Manufacturers Hot on Nichia Heels in LED Package Market, says LEDinside
The quickly spreading LED lighting market has attracted international manufacturers to enter China'sLED package market, according to the latest "China's LED Package Industry Market Report 2014" byLEDinside, a subdivision of global market research organization TrendForce. In 2013, the Chinese LED package market value was up 20% Year-on-Year (YoY) to US$7.2 billion. Top 10 ranking manufacturers in the industry clinched a combined market share of 43.6%. Japanese LED manufacturer Nichia firmly held onto its number one title in the Chinese market, while Chinese manufacturer MLS Lighting was the fastest riser, having grabbed fourth position, and demonstrated revenue growth of nearly 70% compared to 2012.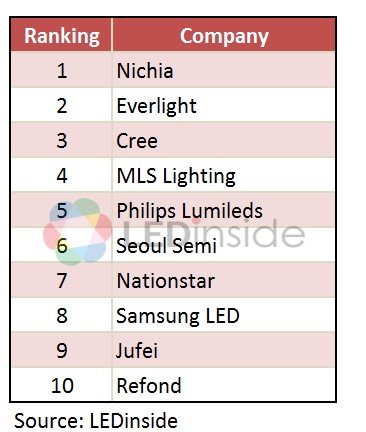 "The Chinese LED packaging market can be split into three major categories—international, Taiwanese and Chinese manufacturers", said LEDinside Analyst Allen Yu. Pressured by competing global vendors and domestic Chinese manufacturers, Taiwanese manufacturers market share in China has gradually declined. As a result, the LED package market in China has mostly become a race between international and local Chinese manufacturers. "International manufacturers will still be able to maintain fast growth in the Chinese market because of patent and technology advantages, but Chinese manufacturers are more likely to succeed in the long run," noted Yu. As Chinese manufacturers will become even more cost competitive and be able to further expand market shares, they will be able to upgrade manufacturing technology. In response, international manufacturers have set up manufacturing bases in China, and are actively searching for OEM suppliers to strengthen their business development strategies.
Major international manufacturers in China include Nichia, Cree, and Philips Lumileds. These companies are global leaders in LED patent strategy deployment and technology. LED products made in China by these manufacturers are mostly shipped to Europe and North America, where there are stringent safety standards, product standards, and patent issues. From this standpoint, global LED suppliers have a better competitive edge. In the light of rebounding European and U.S. markets, global manufacturers' performance in the Chinese market have grown exponentially. In 2013, international manufacturers LED package market revenues in China increased 40% to US$2.0 billion, with Nichia and Seoul Semiconductor annual revenues growth even exceeding 80%.
Even though the Chinese LED industry took off much later than other regional markets, and local manufacturers still fall behind global players when it comes to technology and patents, Chinese manufactures have advantages in the local supply chain and manufacturing. Strong government support has boosted China's upstream LED chip industry growth, which has spurred package industry developments. Moreover, emerging markets growing LED lighting markets have also created new business opportunities for Chinese package manufacturers. Additionally, MLS Lighting, Refond Optoeletronics, Jufei Optoelectronics and other Chinese LED package manufacturers have evolved quickly. "Chinese package manufacturers market value was up 15% YoY to US$4.5 billion in 2013," said Yu.
For the Taiwanese camp, main players include Everlight, Lextar, Unity Opto and others that acquired good market positions in China during earlier phases of the industry. Yet, the rise of global and domestic Chinese manufacturers caused Taiwanese manufacturers' revenues to decline 1% YoY in 2013 to US $640 million. In general, Taiwanese manufacturers' revenues showed a downward trend, but manufacturers including Everlight and Lextar still delivered stellar performance. Currently, Taiwanese manufacturers are adjusting product strategy to meet Chinese market demands with the aim of ensuring the Taiwanese camp can become a main party in the Chinese LED package market in the near future, added LEDinside.